STEPHEN E. MENDES


MUSIC
PAGE
Please Note:- Many of these songs can be heard HERE

I started piano lessons at age 12, but quit after a year as I was playing "by air" so much better than the written stuff they were feeding me.

I was obsessed with creating my own sound and writing original lyrics.

I wanted to leverage technology to produce "big sound" (that of an entire band) and improve both the quality and range of sound effects I could produce.

At 14, I bought an electric guitar which was soon followed by an electric bass.

Between 1974 and 1976, I studied Electronics as detailed in my Education page. I quickly designed an FET stereo mixer, and with two cassette decks, I was into sound-on-sound recording.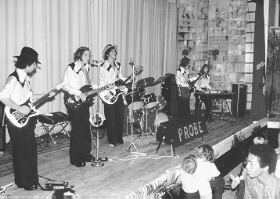 Concurrently with my personal music progress, at this time, I was playing keyboard in a band (PROBE).
We made some money by playing at the Hotels, but most of it went back into better instuments and amplifiers.
Here we are, playing on stage for a local audience, at one of the leading secondary schools on the island (I am way down at the opposite end of the stage!).
In my home studio, I strove constantly to improve the quality of the sound , this was important because as I added each new instument, the parts before were copied from one machine to the next and this degraded the quality slightly each time.
In 1977, I bought the Yamaha BK5 organ shown at the top of this page
In 1979, I purchased an analog monophonic synthesizer (Yamaha CS10)
Between 1986 and 1989, I added the following instuments to my studio:-
Yamaha RX11 "drum" machine.
Yamaha DX27 digital synthesizer.
Yamaha MT44 4-track recorder.
Yamaha MM30 sound mixer.
Yamaha EMT10 sound expander.
Yamaha SPX90 digital effects processor.
Yamaha QX5 MIDI sequencer.
Roland D110 multi-timbral sound module.
I re-recorded all my old numbers to take advantage of the technology boost. Added some new material and released (for sale ?) my first debut album MIRROR OF THE MIND.
---

Back to my Homepage.

Back to personal page.

Goto Photography page.