STEPHEN E. MENDES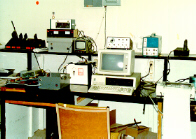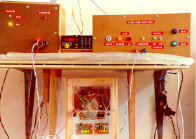 ELECTRONICS
PAGE
I did not get involved in "ELECTRONICS" until 1975 when I was doing a correspondence course in Television & Audio Servicing (see my EDUCATION page).

Prior to this course, I was playing with ELECTRICITY but did NOT have much electronic's knowledge.

Actually, it is fortunate I was around, because I had been experimenting with DANGEROUSLY HIGH VOLTAGES and might have killed either myself or one of my relatives, had an accident occurred !! (some did in fact occur, but nothing serious, so better not to get into that!).

From the moment I had an UNDERSTANDING of vacuum tube circuitry, I was designing and building audio amplifiers. (The LARGE 200W amplifier behind me in the PROBE photo on my MUSIC page is one of my creations, it used 4 x EL34 pentode tubes in a Class B push-pull configuration-- 2 parallel connected tubes per half-cycle, I remember grid bias of the order of -30 volts and plate voltages around 360 volts)

My dad's hobbies were wood-working, metal-working, photography, astronomy and tinkering with cars. He was an Architect by profession.

Because of this I had access to tools and was able to build wooden or metal housings for my projects (see the photo of an early digital project above).

In 1981, I joined a small security firm as an (underpaid ??) Electronics Engineer. After upgrading their existing digital security control center (they were manufacturing and selling in low-volume - the original design was by a Scottish engineer whose services had been procured prior to my hire), my first "virgin" project was to design and build an intelligent device to cut electric bills on airconditioners by determining if people were in a room and/or if any doors or windows were open. Click here to read about the circuit theory and view a schematic, feel free to build one, if you are so inclined !

Throughout the 80's, I designed custom circuitry, unique multi-floor fire and burglar alarm systems, most of which are still in use !
---

Back to my Homepage.

Back to personal page.